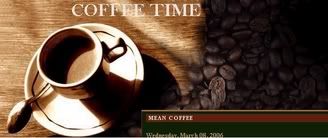 Molly
www.meancoffee.blogspot.com
Male or Female?
My husband hopes I'm female
Age?
30

Married?
Yep.
Kids?
One on the way.
Pets?
One dog, Gromit, and one cat, Guinness
How long have you been blogging for?
Since June of 2005, although Blogger the hateful bitch ate my June archive.
Who/What was your inspiration to start blogging?
I don't know, I had something mean to say about someone I think, so I started a blog. :)

What blog do you read everyday?
All the blogs listed on my blog are pretty much what I read every day, but without FAIL, I always read
One
!
What do you hope your blog brings to the blogoverse?
Discontent and rage?? No wait, Sunshine and kitten kisses?? There you go!!
Your Favorites:

Molly nominated:
Spikey from Oot and Aboot

Please go visit Molly, while there leave her a comment and tell her how you found her.