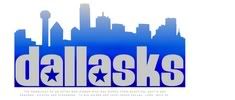 Age? 31!!
Kids? 1 - Nikolaus, 3.5 years old
Pets? 2- Pete and Simon, dogs, both spring '99 models, and 18 Harvester Ants

How long have you been blogging for?
since April 2005


Who/What was your inspiration to start blogging?
Mama Duck


What do you hope your blog brings to the blogoverse?a few laughs, and world peace
Movie?
Gone With the Wind

Band?
Sublime, 311, RATM, Eminem, um, how many do I get?
Blog?
ooooh, I have lots, but Mean Coffee is pretty damm funny
Petpeeve?
stupid people
Quote?
"Irrespective of whether you are a believer or nonbeliever, whether Buddhist, Christian, or Jew, the important thing is to be a good human being." - the Dalai Lama


Mrs. Dallas K nominated:

Robyn from Funky Bugs